FERGUS – The Fergus Business Improvement Area is frustrated after Pride banners on the Tower Street bridge were damaged in what appear to be targeted incidents.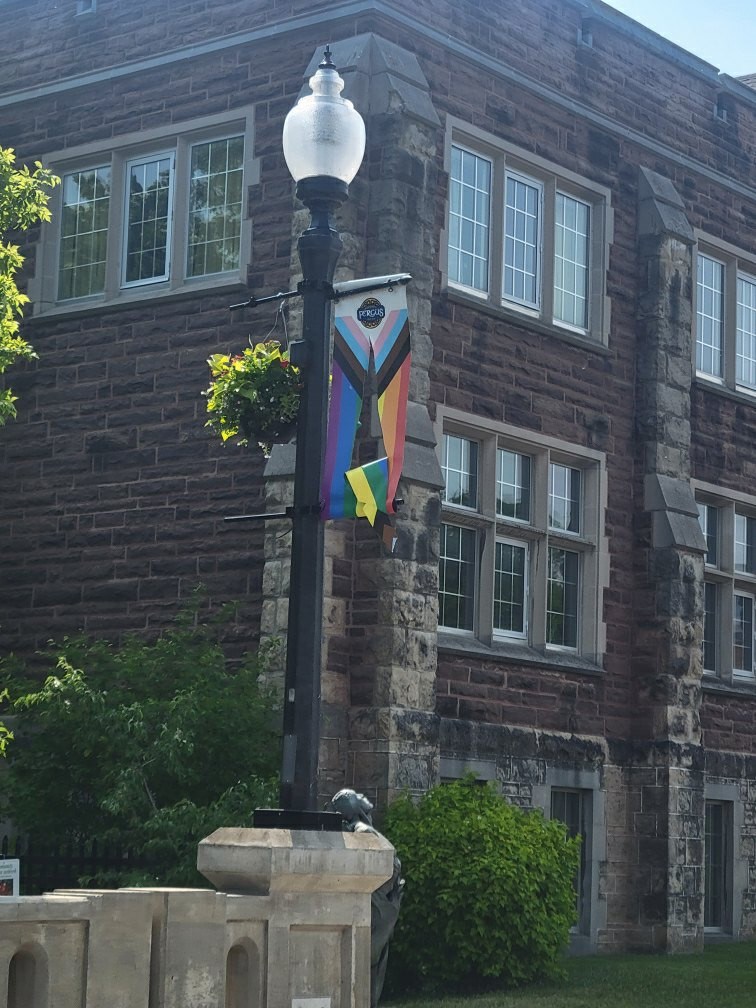 It was Tuesday when Fergus BIA chair Tala Jenkins was made aware that one of its banners up on a light pole on the Tower Street bridge appeared to have been damaged.
The Fergus BIA has a program which has banners printed for different events like the Scottish Festival, Medieval Faire or BIA branded Progress Pride flags — the latter of which was the one damaged.
Four Pride flag banners had been hung in Downtown Fergus, two on the Tower Street bridge and two on the St. David Street bridge.
When the BIA contacted the township to swap it out while the banner was either repaired or replaced, that's when they noticed the second Progress Pride banner on the Tower Street bridge had been ruined.
"I don't enjoy any of them being vandalized but that one is obviously very targeted and that's awful, it's just not acceptable," Jenkins said. "Obviously it's a reaction to the fact that it's Pride Month … and unfortunately someone took it upon themselves to try to make it miserable for everyone."
Of the BIA's many banners hanging around Downtown Fergus, only the Progress Pride ones have been damaged, which is why Jenkins felt it was targeted. Jenkins said based on the photo she saw, it looked like something was thrown through the banner which tore it right in the middle.
"I'm angry and frustrated, it's not right to destroy property or show signs of hate and intolerance to any kind of marginalized community," said Miranda Holmes, Fergus BIA member and organizer of the Pride banners.
Holmes said in the past the BIA distributed handheld Pride flags to local stores to be put in things like planters and a lot of those were stolen and ribbons tied around light poles in town were cut.
"We thought that up those banner poles would be high enough that they would be protected but apparently not," Holmes said.
Holmes said she's concerned about LGBTQ+ youth feeling unsafe because of this display of vandalism.
"I generally regard Fergus as a really amazing community and it's super disappointing to see that because I know when we come together for like Meadows fest, the Medieval Faire, Twilight at Templin or any other downtown event it is a lovely place to be and people are wonderful," Jenkins said. "Just to know that there's individuals like that who are prepared to just kind of ruin it for everyone is just disheartening and I'm not okay with it. I will do my best to ensure the BIA, myself and the business owners are rallying behind the community."
Mayor Shawn Watters was similarly disappointed about this incident and how it negatively reflects on the community.
"It's extremely unfortunate, obviously we're a very caring community and there's no reason for this," Watters said. "It just reflects badly, more so on them than it does on anyone else. We really care for all folks in our community and really we're 100 per cent behind everyone in terms of their ability to be who they are to be."
An advisory from the township indicated new Pride banners will replace those vandalized over the next few days.
The incident has been reported to police and OPP urge anyone with information about the vandalism to call 1-888-310-1122.