ELORA – An inclusive arts creation space that disappeared during COVID is making a comeback.
The Sparrow's Nest Makerspace will have a new home this fall at the Elora Centre for the Arts (ECFTA). The space is a freeform and inclusive venue to create art of all kinds using the program's materials and supplies, all second-hand and reused.
"Sparrow's Nest Makerspace is an inclusive community hub really for connection and creativity," said founder Stephanie Lines-Toohill.
"We place value on reducing barriers to participation — those barriers may be physical, emotional or financial — and our goal is to collaborate, dissolve those barriers and nurture a space that's welcoming, inspiring, purposeful and mindful to encourage creative thinking and making for all ages and abilities."
It's not like a typical art class where people show up setting out to all create the same thing but Lines-Toohill sees it more as an inventor space where youth and adults can try out their art ideas. Lines-Toohill acknowledged it is a loose concept that can be hard to define with words.
"It's a space of creation in whatever that means to the people that come," Lines-Toohill said.
The program has its roots over 15 years ago as part of a wellness day workshop Lines-Toohill did at Elora Public School where she came up with an idea of sewing layered clothing that represented "all the unique layers in each student" which became known as tutu and you or just tutu.
She didn't plan to keep it going but students wanted to continue with it and she was asked if she could do so outside of the school so students from other schools could come.
Originally, this meant a space at the ECFTA was used for a short time for community arts projects but then it moved to Lines-Toohill's home studio where it became known as the Sparrow's Nest.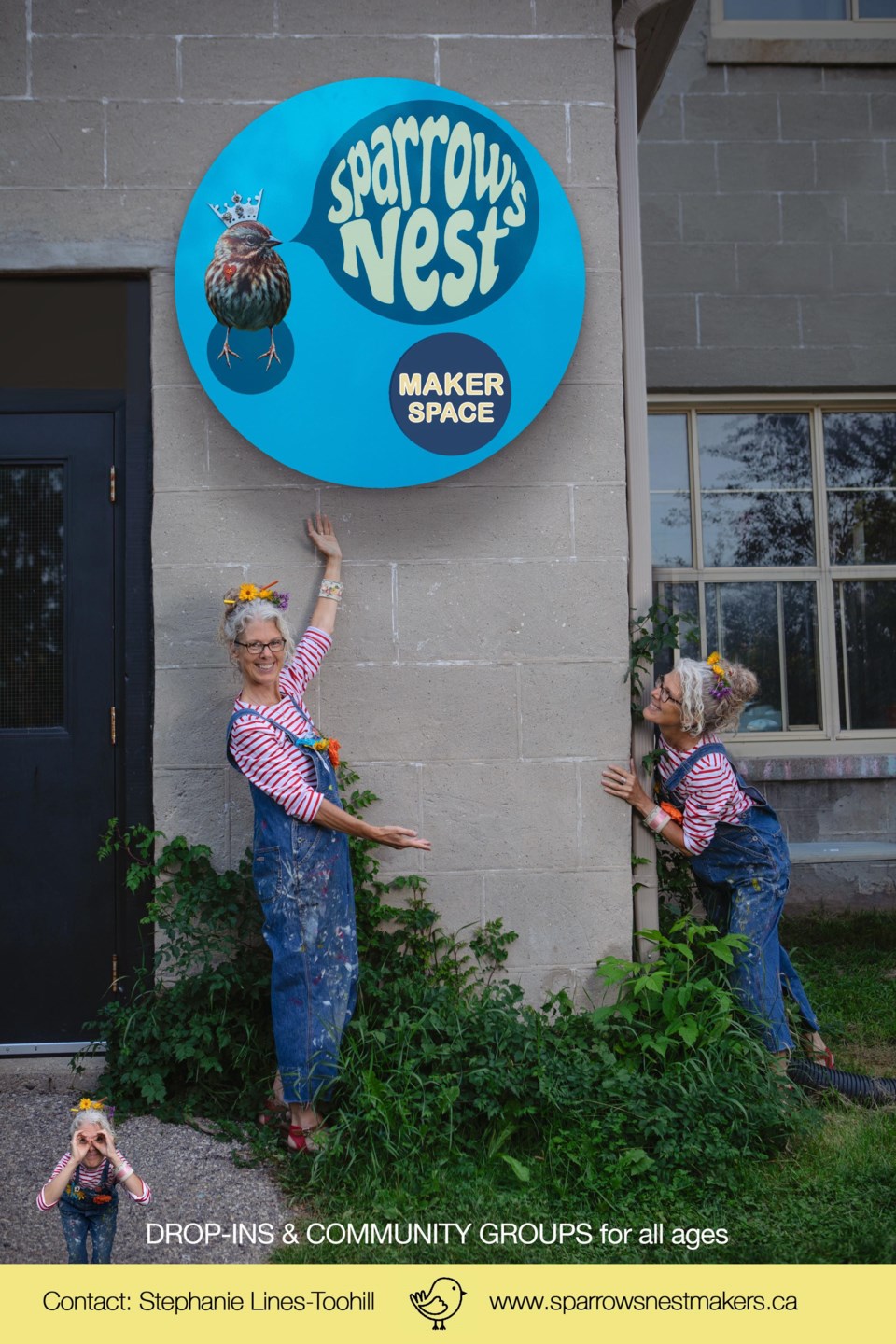 From there it moved to a space down an alleyway in Downtown Elora and then began to flourish in this location.
"Then COVID happened and we had to close, which was the first time in 15 years that it ever stopped," Lines-Toohill said. "I considered not starting it again. That hit me hard that closure."
Since that time, she has worked in the supportive arts program for adults with special needs at the ECFTA and a space
there once again became available for rent which was approved to be used by the Sparrow's Nest as it fits in with what is already offered there.
"We're very excited that we can open the doors to a bigger nest and invite adults and art based community groups, all ages and abilities into our nest," Lines-Toohill said. "Up until now, we've only ever focused on youth. This is the first time that we've been able to really say to our community, all abilities and ages, 'you're welcome here.'"
This new space will offer a varied supply of repurposed arts and crafts materials and tools with tables and sofas to work from. A monthly calendar will have posted time slots for specific uses like drop-ins, community groups, independent work or shared projects. There will be "nest facilitators: Norah Wardell, Donna Hulla and Gemma Lines-Botell, on site for programs.
There is a small cost to use the Sparrow's Nest but Lines-Toohill said they will respectively work with those who might find money to be a barrier to entry. Drop-in programs will be by donation and monthly memberships will be set up to keep it financially stable.
The Sparrow's Nest is set to open its doors the first week of October.