People will not do business with you if you make it hard to do business. There's just too much competition and not enough interest.
To attract sales and become interested in your business, you want people to know, like, and trust you. Once they are interested, your work isn't complete. You want to make it easy on them to do business.
If you're doing the following things in business, you may be missing sales because you are making it too hard.
You May Be Making It Hard to Do Business with You If…
You don't have an online presence. It's not quaint, it's difficult. When someone wants to learn more about you, they go online. They may search for you because they're curious about your hours or your contact information or they may want to order from you. Some people may have heard of you but don't know what you do. There are many reasons someone would look for you online and if you're not there in some capacity, you are missing out.

There's no social proof about you. Have you seen great deals advertised on Facebook? Do you click on them? What if you don't know the business and the claim appears too good to be true? Are you hesitant to order? Probably; however, if there were reviews on a reputable site for this company or you were referred to them by someone you knew, you would be more likely to buy from them. If you want to increase sales, you need to empower people to talk about you. You need to ask for referrals and reviews.

Your hours are limited. If you sell or enable customers to make appointments online, your hours don't matter as much. But assuming you sell only in store, or someone needs to reach you to make an appointment, limited/unpredictable hours make it difficult to do business with you. People don't want to wonder if you'll be open. They want to know for sure before they go out of their way.

Your business is unknown. If a customer isn't sure how they would buy from you, they won't. For instance, let's say you are the first business in your town to do massage and no one there has ever heard of it. In order to help people buy from you, you need to educate them and make them feel at ease. You can do this through content on your website, ads, etc. This advice doesn't just apply to new businesses. For instance, people who are considering joining a gym will want to know if you are geared toward athletes, females, the general public, etc.. They want to find their "people" at your business. Targeted content helps you convince them that they're in the right place.

You can't stay staffed. Businesses are struggling with this right now; but if you don't have enough employees to guarantee a good customer experience, people won't be back. You want to ensure your customers are receiving good service, but overworked employees aren't always capable of that. Hire as quickly as you can and make the employees you have feel valued.
If you want more sales, make it as easy as possible to do business with you. If you do, you and your customers will be more satisfied.
MEMBER PROFILE – Beyond Rewards HR
Beyond Rewards HR and The HR Coach are your full-service people management partners, providing Human Resources, Health and Safety, Coaching, Training, and Workplace Investigations on-call and on-site. They allow their clients to focus on their business while they take on the challenges of HR & compliance issues.
Beyond Rewards HR connects your business to the resources you need.

The Beyond Rewards team will help you reach compliance by working with you to get everything you need in place. They can act as your HR Department and recruit on your behalf. Their team is licensed to conduct workplace investigations of harassment. Beyond Rewards truly does provide all things HR, Safety, Coaching, Training, and Investigations through their team and partners.
"The Chamber is all about community and providing supports for its members and the opportunities to showcase who you are and what your business can provide to its clients. We belong to several Chambers and no other Chamber provides the support and benefits of membership through its commitment to its members quite like the Centre Wellington Chamber. We love being a member of this community"
As a member of the Chamber network CPN group and as an affinity partner, Beyond Rewards HR has been introduced to many businesses in the Centre Wellington region to provide supports to companies and present not only at the networking group but also at Chamber Biz Breakfasts. Beyond Rewards HR is also a long-time sponsor of both the CWCC Golf Tournament as well as the Awards of Excellence.
Within the community, Beyond Rewards HR works with The Grand 101 to bring businesses support information through the radio - listen for the HR Minute Tuesdays weekly on The Grand 101! They are also active in the community through continued support with Big Brothers Big Sisters CW, and sponsoring events in the community.
You can connect with Beyond Rewards HR on Facebook, Twitter, and LinkedIn or visit them online.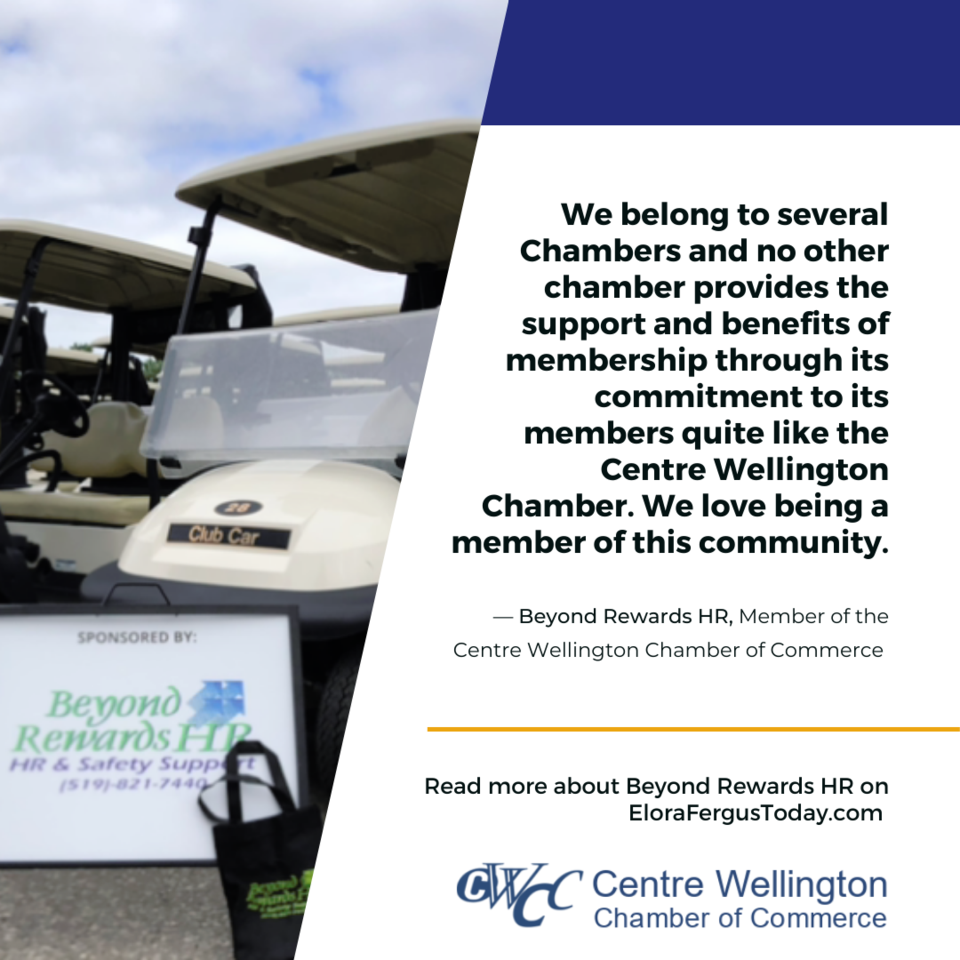 Are you interested in joining the Centre Wellington Chamber of Commerce? Learn more about membership and benefits at www.cwchamber.ca