A Chamber of Commerce is a connector amongst business professionals.
We are passionate about helping local businesses thrive, and one of the ways that we do this is through helping business leaders build relationships. Facilitating introductions, providing opportunities to gain exposure for your brand, and creating atmospheres conducive to successfully and easily marketing yourself are just some of the ways we can help.
You can increase the visibility and credibility of your business by taking advantage of Chamber programs like sponsorship, advertising, online networks, social media, member directory, speaking opportunities, event attendance, authoring articles for Chamber communications, and more.
We are an independent, non-profit, organization
While we maintain excellent relationships with the municipality, the county, and organizations such as the Ontario and Canadian Chambers of Commerce, we are an independent, non-profit, member-driven organization, serving as a community resource to promote and maintain business growth through advocacy, networking and educational opportunities.
Members of the Chamber of Commerce network should consider their investments – be that their membership, programs they participate in, and/or events they attend and sponsor – as part of their marketing strategy. Chamber members are identified as investing in the betterment of business and the general community, which increases their visibility and promotes their image.
We are focused on local business
We improve our community by helping local businesses thrive. When local businesses are succeeding, the local economy flourishes and businesses can better support local charities, events, and their employees.
Among the benefits that the Centre Wellington Chamber of Commerce members receive are deals and discounts from other chamber members and affinity programs, being listed in a member directory with proven impact on SEO, and access to a variety of programs and services designed to promote business activity by improving your bottom line and helping you grow as a business.
The Chamber of Commerce is your access point in community building. It's a place for you and your staff to bring your ideas, share your expertise and lead or support efforts to shape your community and thrive through the building of relationships.
MEMBER PROFILE
Working in Centre Wellington since 1990, the Ecclestone Financial Group Inc. (EFG) continues its important work in our community. As long standing Members of the Centre Wellington Chamber of Commerce (CWCC), EFG works with individuals, families and businesses (including farms), providing exceptional client service and expert advice in the many facets of financial and insurance strategies. Whether it's your first time investing, planning for retirement, buying a home, wanting a change in performance from the bank, wanting to see your pension grow, transferring wealth from a business or generation – EFG is passionate about guiding you through your unique financial journey.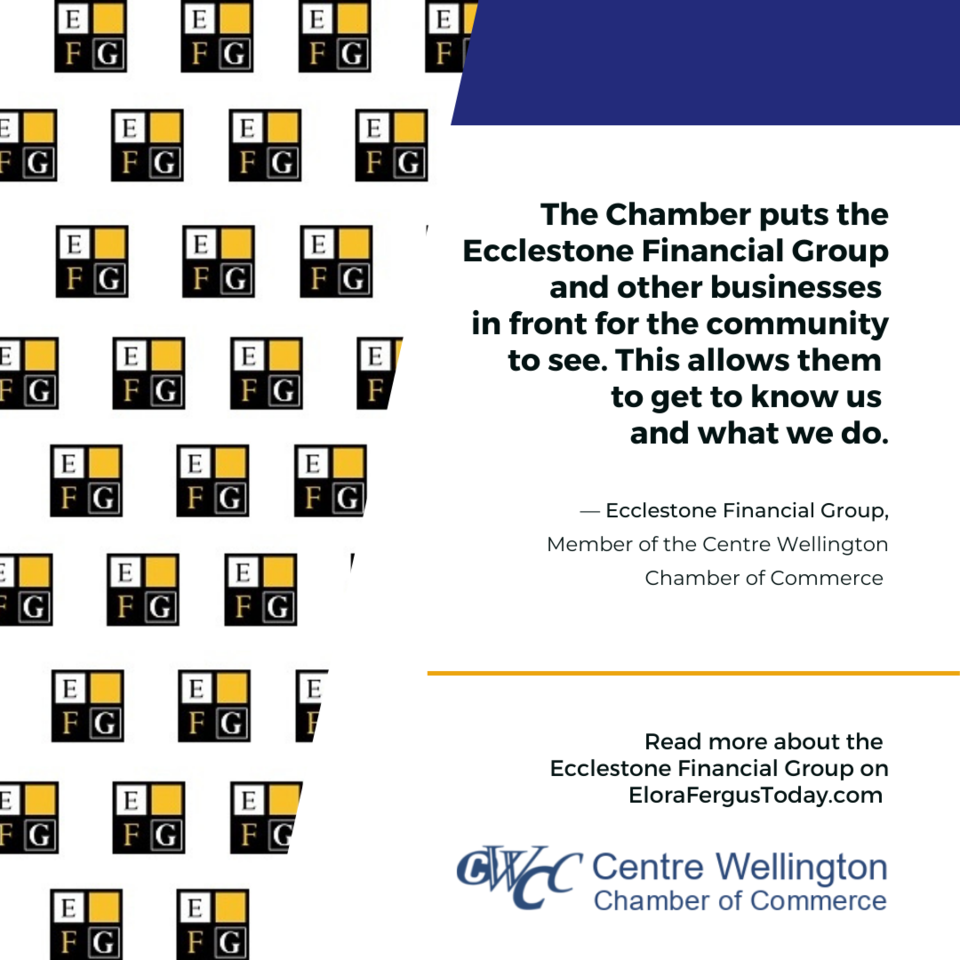 "CWCC provides an opportunity to share the work that Ecclestone Financial Group does within Centre Wellington," said an EFG Spokesperson. "The Chamber promotes EFG and other businesses for the community to engage with, allowing the community to get to know EFG and the work that we are doing."
Ecclestone Financial Group is involved with both the Chamber Plus Networking groups, which are established groups of business leaders who meet regularly to chat business, build relationships, and make referrals. The 26 Coffees networking program has also allowed EFG to get to know companies in the community. Involvement in CWCC allows them work alongside other companies who are also looking for ways to increase business and exposure.
In addition to being Members of the CWCC, EFG is proud to work with the CW Community Foundation – EFG Financial Literacy Fund, Food & Friends, TreeTrust, Big Brothers Big Sisters Centre Wellington, Groves Hospital, the Rotary Club, the Fergus Fall Fair, Melville United Church and many other groups on a smaller scale.
You can connect with the Ecclestone Financial group on Facebook, Instagram, Twitter, and LinkedIn or visit them at https://efginc.ca
Are you interested in joining the Centre Wellington Chamber of Commerce? Learn more about membership and benefits at www.cwchamber.ca